3RD OPEN CALL
FREQUENTLY ASKED QUESTIONS
Eligibility and enrollment process
We estimate an average time of 4 hours for filling in your application via the official submission form. Note that character limitations have been established in each section of the online application form.
No, according to the IMPACT EdTech Open Call eligibility criteria, only one proposal per company can be submitted. If more than one proposal per company is identified by the IMPACT EdTech team, only the latest proposal which has been submitted in order of time will be evaluated.
The 'Guide for Applicants' is the main reference document for the 3rd IMPACT EdTech Open Call. It provides detailed information about the requirements of the evaluation and selection process, and the Incubation / Acceleration Programme offered by the project.
Additionally, an Open Call Helpdesk service is available to clear up any doubts you may have relating to the application process (eligibility rules, application form information requests, etc). You can access the Helpdesk via the Open Call Community Spaces available here: https://spaces.fundingbox.com/spaces/impact-edtech-impact-edtech-3rd-open-call-q-a. Finally, a Technical Helpdesk service (contact@impactedtech.eu) is also available if you encounter any technical problem when filling in the application form.
Evaluation and selection process
Remember that evaluators do not know your solution: give as many details as possible and make sure you include a demo link or a video. Moreover, all external sources included in your application form must be public and easily accessible.
Be specific when answering the questions asked in the application form, they are designed to help evaluators assess your proposal against specific criteria.
Show how your solution tackles one of the three challenges described in the Guide for Applicants: the selected solutions should help achieve the overall objective of IMPACT EdTech, which is to extend personalised, inclusive educational models and/or support the development of the skills relevant in today's world.
Only innovative solutions will be selected: make sure to explain how your solution differentiates itself.
Describe why the members of your team are the best suited to work on the EdTech solution that you propose.
Only solutions with commercial potential will be selected: show the evaluators that you know the market potential of the EdTech solution that you propose.
The table below presents the indicative dates in which each of the evaluation phases will end and the number of expected applicants that would go through to the next phase.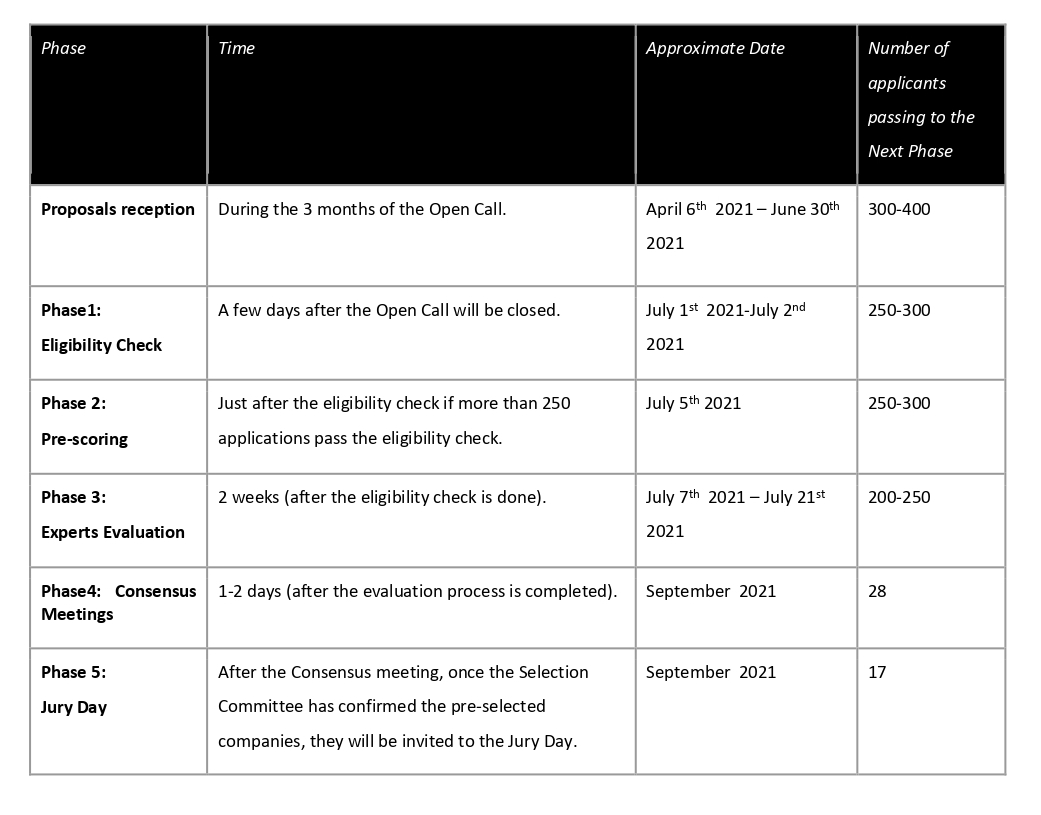 The pre-scoring will be applied if more than 250 applications pass the eligibility check. The pre-scoring is a system carried out on the FundingBox platform which automatically scores answers to specific questions, following pre-established criteria. Only the 250 highest scored proposals will move to the "Experts evaluation" phase. You can see the pre-scoring criteria in Section 4.2 of the Guide for Applicants.