List of the winners of the first open call and pre-selected finalists of the Remote Schooling open call
IMPACT EdTech announces the 25 start-ups and SMEs that will enter the European programme with 5.6 Million Euros in equity-free funding
The winners of the first open call and the pre-selected finalists of the Remote Schooling open call, chosen amongst 380 applications from 36 countries, will receive up to €195,000 and €110,000 in equity-free funding (respectively), alongside incubation, acceleration and mentoring services.
IMPACT EdTech is offering a total of €5.6M in equity-free funding in three open calls for start-ups and SMEs within the framework of Horizon 2020 programme by the European Commission.
These disruptive edtech solutions will break the barriers to education and enhance learning experiences in a new era of human-centered digital education.
Madrid, October 19, 2020.- IMPACT EdTech, the European Incubator-Accelerator that helps EdTech start-ups and SMEs turn ideas into market-ready products, has announced the names of the 15 selected start-ups entering the incubation stage of the programme and the 10 pre-selected companies that will be fast-tracked to acceleration. The project led by European Schoolnet,  ISDI Accelerator (ISDI) and FundingBox chose the companies during two separate Jury Days in which 53 start-ups and SMEs pitched in front of a panel of education experts (10-11 September and 13-14 October) in events held entirely online. Prior to that, on 9 September, the first Jury Day attendees received a pitch workshop led by ISDI Accelerator where pitching experts would help them improve their presenting skills and prepare for the Jury Day.
The jury was composed of representatives of European Schoolnet, ISDI, FundingBox and external advisors experts in the education sector.
List of the winners of IMPACT EdTech first open call
15 start-ups and SMEs were selected to enter the incubation programme:
Each selected company will enter into the incubation stage, of a duration of four months, starting with a training bootcamp and mentor matching starting on October 19. After this first stage, the best-performing companies participating in the programme will be selected to enter the acceleration phase.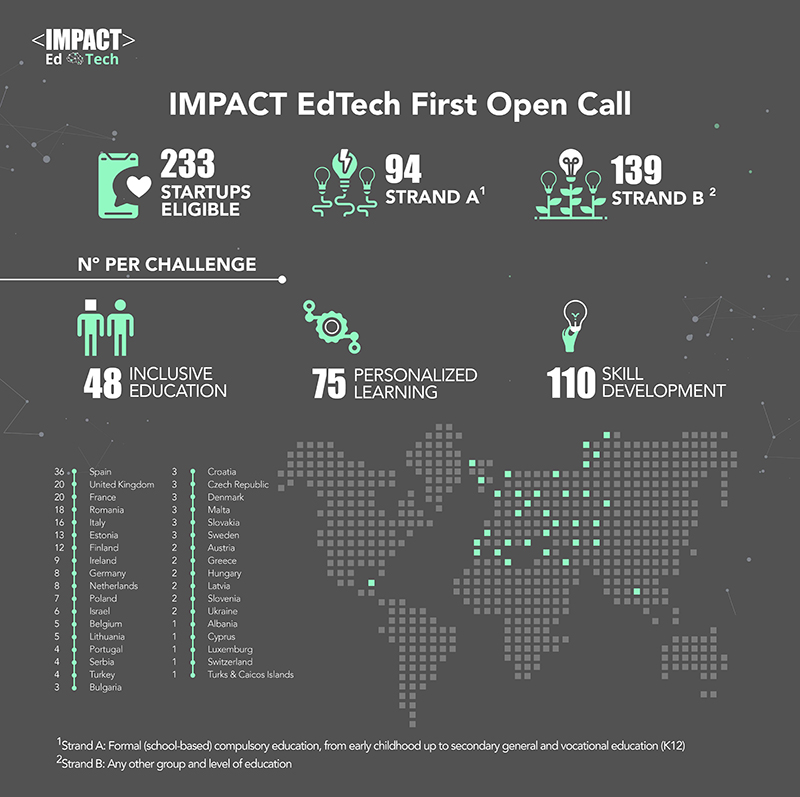 List of pre-selected finalists of the IMPACT EdTech Remote Schooling Open Call
10 start-ups and SMEs, that first need to through a final legal check before they are accepted into the programme are:
Reserve list 
Two extra start-ups have been pre-selected and would join the programme in the case that any of the other ten companies are not eligible after the legal check:
Notebloc (Spain): the free app that transforms any mobile device into a scanner and document organizer.
Bolster Academy (Netherlands): A mathematics homework & assessment platform that engages students while saving teachers time
The winner start-ups and SMEs will be fast-tracked to a 5-month acceleration programme, including regular 1:1 business and educational mentoring sessions, piloting and other perks.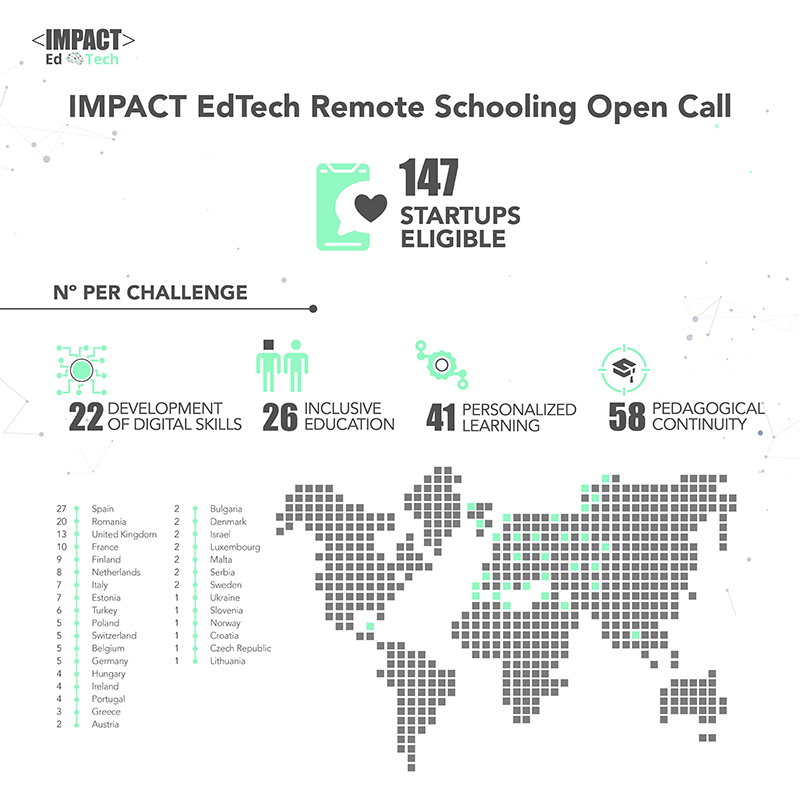 IMPACT EdTech is an incubation-acceleration programme funded by the European Commission via its H2020 programme, ambitioned to support European EdTech disruptors with almost €5.3M equity-free funding plus acceleration and mentoring services to bring their digital learning innovations into the market.
More information about the project: https://www.impactedtech.eu/

Find us on: Twitter, LinkedIn y Facebook or sign up to our newsletter.
ISDI Accelerator develops acceleration & innovation programs for start-ups, corporations and public institutions. We have lead mentoring and acceleration services in the IMPACT ACCELERATOR programmes since 2014.  These initiatives, funded by the European Commission, have marked a milestone on the continent thanks to the collaboration between public entities, corporations, educational entities, investors and, of course, start-ups. Our portfolio currently features more than 190 start-ups, 4 of which have had an exit. We have distributed 45 million of public funding and 104 million euros have been raised after our programmes. ISDI also covers a wide range of countries all over Europe; our start-ups come from 27 different countries of origin.
European Schoolnet is the network of 34 European Ministries of Education, based in Brussels. As a not-for-profit organisation, we aim to bring innovation in teaching and learning to our key stakeholders: Ministries of Education, schools, teachers, researchers, and industry partners. European Schoolnet's mission is to support relevant education stakeholders in Europe in the transformation of education processes for 21st century digitalised societies.
FundingBox provides access to funding opportunities, knowledge and connections through specialised communities that are related to specific tech initiatives: Smart Mobility, Robotics, Decentralised Technologies, Circular Economy, Next Generation Internet, Industry 4.0, etc. Communities are accessible within an open-culture platform thanks to which stakeholders from startups, SMEs, Research & Technology Centres and a variety of other organisations meet, interact and collaborate. In this way, these makers, entrepreneurs, innovators and experts can build meaningful connections and win equity-free and private funding that can together boost their growth.